Automotive Glass Replacement | Repair
Chandler & Tempe
Are you searching for "Auto Glass Repair" or "Auto Glass Replacement" in Chandler and Tempe, AZ, while looking for auto glass experts near you?
If so, T&S Auto Glass can help!  Our team's focus is on nothing but repairing or replacing auto glass with the best customer service and attention to detail anywhere.
AUTO GLASS REPAIR SERVICES WE OFFER
Windshield Repair & Replacement

Front Door Glass Repair & Replacement

Rear Door Glass Repair & Replacement

Side Mirror Repair & ReplacementQuarter

Door Glass Repair & Replacement

Back Window Repair & Replacement
Our repair and replacement services include removal of the broken or cracked glass, installation of new glass specifically designed for your automobile's make and model and we guarantee your satisfaction. This service includes all of the modern features installed as part of windshields, including: forward collision alert sensors, rain sensors, antennas, forward collision sensors, lane departure sensors, and all high tech vehicle features that are part of or are mounted on your windshield.
Mobile Auto Glass Repair
We also have a mobile service that will drive to your home or business at your convenience to do the job. Our trained technicians will assess the damage to the auto glass and determine if the crack or chip is repairable or if your windshield needs replacing. If safety or visibility is an issue based on the location and severity of the damage, a replacement may be required. See our guide "Do I need auto glass repair or auto glass replacement?". View our mobile auto glass repair & replacement services.
We can repair or replace auto glass on all type of vehicles including, cars, vans, trucks, suvs, commercial vehicles, RV's, sports cars, exotics and classics. We have had a long standing relationship with local dealerships and welcome fleet service vehicles as well.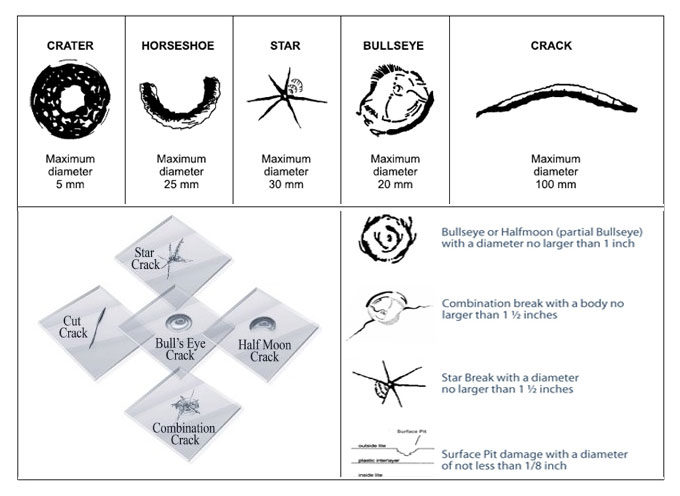 What kind of windshield cracks and chips can be repaired?
This picture/guide will show you the type of cracks and chips which can be repaired. If your crack or chip is bigger than these examples you are going to need to get your windshield replaced.