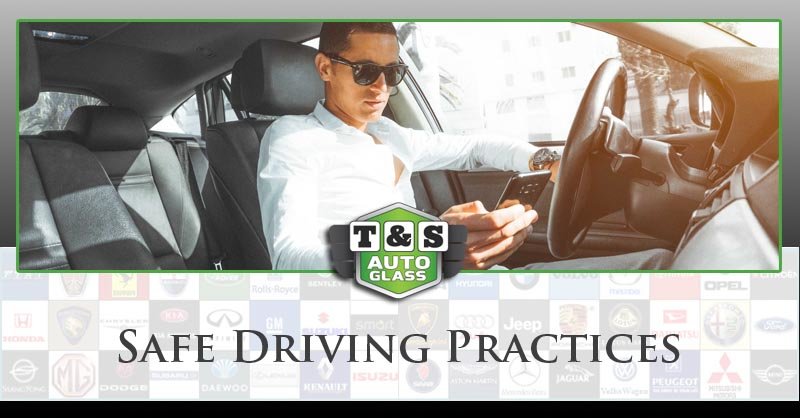 If you're searching for safe driving practices you might be a new driver, or may be a driver who was recently involved in a auto collision.  T&S Auto Glass wants all of our friends and neighbors in the Phoenix Valley to be safe and avoid collisions.  To that end we have prepared this safe driving practices post to help you stay safe out there.
4 Safe Driving Practices
There are 4 main driving practices that will help you avoid collisions and accidents while driving.  These are driving defensively, focusing on the road, being responsible, and planning your trip. Each of these might sound the same, but there are important nuances between them.  Read more below.
Drive Defensively
Driving defensively is one of the most important safe driving practices.  It involves being aware of where other drivers are, what they are doing, and always being ready for the unexpected.  It's best to assume that other drivers will take risks and drive poorly so you're ready to react.  Always maintain at least a 2 second gap between you and any vehicle you're following.
Focus On The Road
While it is tempting to try to get a little work done, text, or eat it puts you at risk.  When you're driving your car make sure that your focus is on the road and only the road.  The texts, calls, and other electronic devices can wait.  If something is really important, pull over and take care of it instead of dividing your attention.  It's that split second of attention that can mean the difference between close call and call for collision repair!
Keep The Kids Calm
If you have children, it is important to keep them from fighting or climbing around while the vehicle is in motion.  It can distract you as much or more than a text message.  You can give them activity books, provide personal DVD players, or ensure they have tablets to keep them entertained for longer than normal drives.  This will give you a better chance at focusing on safety.
Drive Responsibly
First off, slow down so you have time to react.  If you're going too fast you won't have as much time and it will increase the level of damage done to your vehicle.  When you change lanes use your signals and never cut people off, it is dangerous and can trigger road rage.  In addition, make sure any cargo in the vehicle or in a truck bed is securely fastened.  Never try to reach down and grab items which have fallen, such as your smartphone.  Never drive impaired by medicines, drugs, or alcohol.  Wear your seat belt and make sure all of the things you need such as garage passes, toll cars, and toll booth money is easily accessible.
Plan Ahead to Drive
Whether you're just commuting to work or having a long road trip, planning is important.  Give yourself enough time to make the journey and take any stops you'll need.  If you are going a greater distance plan time into your drive for rests, food, phone calls, or any other type of conference call you need to take care of.  Before driving set your mirrors, seat, steering wheel position, and AC/heater.  Plan for your driving and make sure you're well rested as tired driving is like drunk driving as it diminishes your reaction time.
Windshield Repair Services
If you've got a cracked, chipped, or damaged windshield our team can help!  We replace all sections of auto glass on cars, trucks, vans, SUVs and RVs.  No matter what the damage on your auto glass our technicians can find the right replacement, remove all of the old glass, and install your new windshield the right way! 
Contact Us or Call 480-345-8990