Sunroof Glass Replacement Costs 2022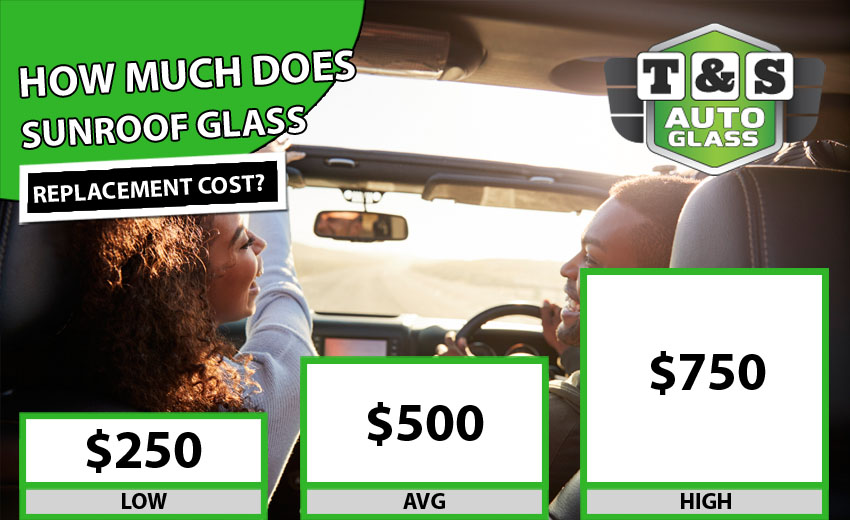 The average cost of a sunroof replacement is $500 with average prices ranging from $250 to $750 in the US for 2022, according to axeladvisor. However, some sunroof glass can cost as much as $700 to $1,200 to replace. You actual cost will depend on the type of sunroof you have and other factors. Please keep reading to learn more.
Safelite says, "There are a variety of types of sunroofs, from pop-up to folding to panoramic roof systems."
According to AngiesList, says the average cost to replace to sunroof glass itself is only about $300 to $400 but the cost to replace the motor will set you another $100 to $250 or more.
Research shows 37% of automobiles sold in the US have sunroofs. Sunroofs are becoming very popular and are nice amenity to have that allows extra light and ventilation.
Sunroof Repair Cost
When a sunroof is damaged or stop working, the opening can allow water and moisture to enter the vehicle if it gets stuck in the open position. Vandalism, accidents, falling objects, and other incidents can easily damage a sunroof. Sunroof problems can be very expensive to repair.
The average cost to replace a manual pop-up sunroof ranges from around $250 up to $750. This cost includes parts and labor. The exact fee depends on local rates, the size of the sunroof that is being installed, and the materials used. The make and model of the vehicle can also affect the cost because of any or modifications or special requirements needed to make the sunroof fit and operate properly.
Top Mount Sunroof
A top-mount spoiler sunroof has a glass panel that slides and tilts beside the vehicle's roof on the outside. This type of sunroof typically costs between $700 and $1,200 to replace, including parts and installation, depends on the model and make of the vehicle.
Motor Powered Moonroof
A moonroof is powered by a motor and is another version of sliding glass panel that is power operated and slides on rails installed between the vehicle's interior headliner and metal roof. A moonroof is one of the most poular sunrroms you can install but is also the costliest to replace. Moonroof eplacement cost about $1,500 on average with pricing ranging from $1,000 up to $2,000.
Cleaning Drainage Area: $80 – $150
Replace Glass: $300 – $400
Broken Cable or Track Replacement: $500 – $800
Motor Replacement: $200 – $500
Replace Moonroof: $1,000 – $2,000
Insurance Coverage
Vehicle insurance policies usually don't cover sunroofs as a single item. The auto glass on a autombile is normally insured by the comprehensive coverage of the insurance policy. Comprehensive coverage includes the sunroof, side windows, and windshield. Even though mirrors and headlights are made from glass, your insurance policy does not include damage to them.
It doesn't matter what caused the claim. Claims for damaged glass are always filed under your comprehensive coverage, which only covers glass. Collision coverage covers the vehicle's body damage. If the sunroof and the car were damaged in a accident, the automobile would be covered under collision coverage, while the sunrrof would be covered under comprehensive coverage.
T&S Auto Glass Offers Sunroof Replacement In Chandler, Arizona